Nanocrystalline Heterosupermolecular Materials for Optoelectronic Applications.
Grant Agency
European Commission
Topics
Mesoscopic electrode materials.
Abstract:
Europe has world leading expertise in the fields of both supermolecular photochemistry and optoelectronic applications of nanocrystalline metal oxide films. This programme brings together expertise from both of these fields to address the development of innovative heterosupermolecular devices which combine the specificity and unique functionality of supermolecular chemistry with the nanometer scale strcutural control and ease of integration into electronic devices of nanocrystalline metal oxide electrodes.

The project will be science focused, with specific technological objectives. Key scientific elements of the project will be the synthesis of supermolecular structures designed both to achieve the desired functionallity and including binding groups for ligation to metal oxide surfaces, the self-assembly of these structures on the surface of mesoporous, nanocrystalline films, the electrochemical and photochemical evaluation of the resulting heterosupermolecular systems, and the functional evaluation of these systems for technological applications.

The project will target the demonstration of four innovative heterosupermolecular devices: light emitting diodes, optical data storage devices, magneto-optical data storage devices and electro-optical sensing and switches.The proposal will be at the meeting point between supermolecular chemistry, nanostructured inorganic materials science and optoelectronic device physics. It is therefore highly multidisciplinary and involves leading European groups working in organic, inorganic, biology, physical and materials science.

This project will develop a critical mass of expertise targeting this innovative approach to optoelectronic devices, allowing Europe to establish a scientific world lead which will form a secure basis for technological exploitation.
prof. RNDr. Kavan Ladislav CSc., DSc.
E-mail
ladislav.kavan

jh-inst.cas.cz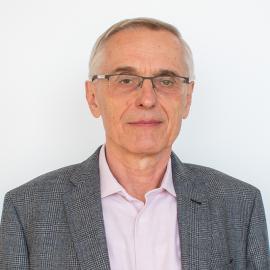 Extension
+420 26605 3975